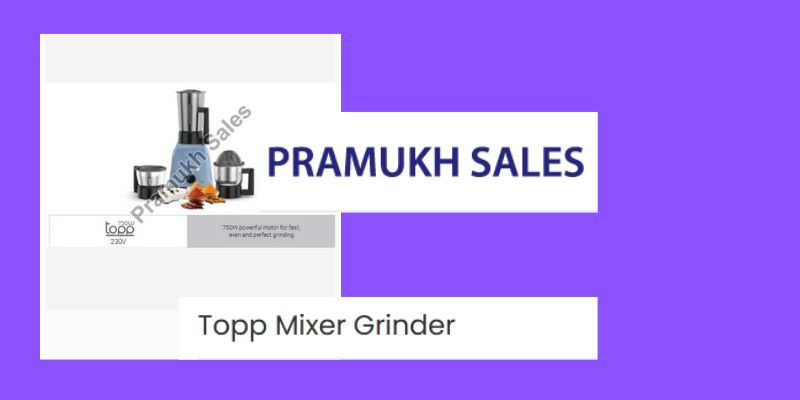 The time it takes to prepare meals is one of the reasons why so many people dislike cooking. Especially when you are pressed for time, physically chopping veggies and grinding spices takes a lot of time. But even on a hectic morning, cleaning up the kitchen is surprisingly simple with the correct appliances.
A grinder and blender are two practical appliances that simplify and speed up your activities. But if you are not sure what to look for when buying these products from Topp mixer grinder suppliers, this article can help. The following 4 factors are crucial to take into account when purchasing a mixer grinder :
Types Of Blade
When purchasing a blender or grinder, the blade is the first crucial component that needs to be examined. For ease of use, ensure the appliance has stainless steel blades with a diamond-cut finish. In addition to being hygienic, stainless steel blades boost the product's durability.
Diamond-cut blades increase convenience by making it quick and simple to combine and ground food. You can create dosa batter even without soaking thanks to the line of blenders and grinders, which have diamond-cut blades. The performance of an appliance is directly correlated with the quality of its blade.
What Is The Jar Made Of?
This is yet another crucial issue that you should take into account. Although the jar does not affect the applicant's ability to blend, it is still necessary to consider the material as you add all the elements to the jar.
It is always better to select a polycarbonate glass jar instead of a plastic one to be on the safe side. However, compared to other glass jars, polycarbonate containers are stronger, which is why they do not break as quickly.
How Quickly Does The Blender Operate?
It is crucial to think about the blender's operating speed when choosing a blender and grinder. When compared to standard blenders, a high-speed blender can accomplish several tasks that it cannot. With the help of a powerful blender, you may produce almond milk, grind spices, or prepare creamy smoothies. It is the perfect appliance for a hectic morning when you do not have much time due to its rapid speed of operation.
Dimensions Of The Mixer Grinder's Jar

It is important to verify the blender jar's capacity. A blender's jar volume usually ranges from 0.2L to 2L. It is advised to choose a grinder and blender with a large capacity to make your task easier. It is simple to combine, blend, and grind many food products at once when using a large-capacity jar. A high-capacity jar will serve your needs whether you need to create smoothies, juices, or grind spices for a large family.
Make A Secure Purchase frpm the leading Topp Mixer Grinder Suppliers


All of the above-mentioned requirements can be satisfied by less expensive tools. On the other hand, a tool's high price tag does not automatically imply great quality. Making a confident purchase should be aided by your knowledge of the elements to consider and assess. Then and only then will you be receiving value for your money.